CTOS Digital IPO of up to 1.10bil shares, retail price RM1.10 each
Article was originally published by TheStar.com.my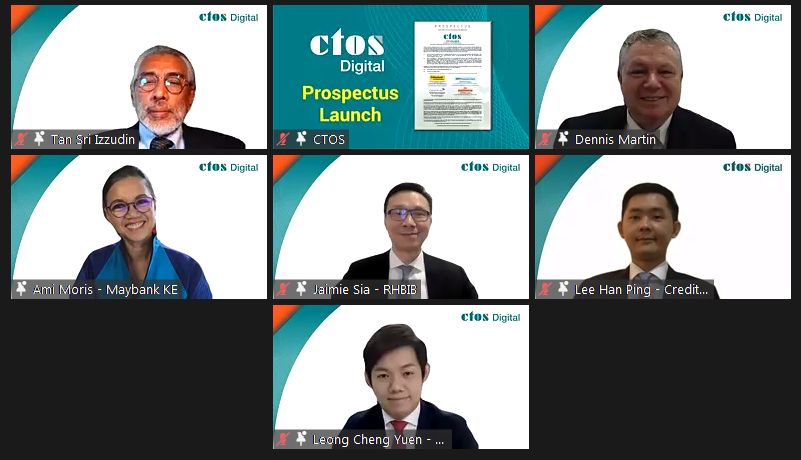 KUALA LUMPUR: CTOS Digital Bhd, which is seeking a listing on the Main Market of Bursa Malaysia, is offering up to 1.10 billion shares — involving 900 million existing shares and 200 million new shares — representing 50% of the enlarged share capital.

Upon listing of the total of 2.20 billion shares, its total market capitalisation will be RM2.42bil based on an indicative price of RM1.10 a share for retail investors.
In its prospectus issued on Wednesday, it said the public issue of 110 million shares will raise gross proceeds of RM220mil and the offer for sale of 900 million shares RM990mil.
CTOS Digital said the floatation exercise involved an institutional offering of up to 936 million IPO shares to Malaysian and foreign institutional and selected investors at an institutional price to be determined via book-building.
The credit reporting agency said the retail offering of 164 million issue shares will be offered to directors, employees and the Malaysian public at RM1.10 a share. The final retail price will be equal to the lower of the retail price of RM1.10 or the institutional price.
CTOS Digital said the 164 million shares represent about 7.45% of its enlarged issued share capital where 120 million shares or 5.45% are reserved for application by the eligible Persons.
The remaining 44 million shares or 2% of its enlarged issued share capital, are reserved for application by the public of which 22 million shares have been set aside for application by Bumiputera citizens, companies, cooperatives, societies and institutions.
The closing of the retail offering is at 5pm on July 6 and that for the institutional offering on the same day while the price determination date is July 7.
It will raise RM220mil from the new shares of 200 million units where RM155.18mil or 70.5% will be used to repay borrowings while RM6.09mil would be used to defray its fees and expenses for its IPO and listing and RM58.0mil for acquisitions to be identified.
"We target a pay-out ratio of 60% of our profit attributable to the owners of our company for each financial year on a consolidated basis after taking into account working capital, maintenance capital and committed capital requirements of our group.
"The declaration and payments of any dividend is subject to the confirmation of our board as well as any applicable law, licence conditions and contractual obligations and provided that such distribution will not be detrimental to our group's cash requirements or any plans approved by our board, " it said.
On its plans, CTOS intends to continue to invest in further developing and extending its ecosystem of end-to-end credit management solutions.
"To further develop and extend our ecosystem of end-to-end credit management solutions, we intend to continue to invest in new databases and innovate new digital solutions for our customers with a focus on data and analytics as well as digital transformation.
"In the next two years, we expect to invest in two main areas, i.e. our IT capabilities and data and analytics. In the medium to long term, we also intend to increase our investments in artificial intelligence and machine learning, so as to incorporate these technologies into our analytics and decisioning platforms, " it said.
CTOS Digital will continue to deepen and broaden our data sources. Despite its access to a wide variety of databases from various public and proprietary sources in Malaysia and internationally, it will continue to deepen and broaden its data sources to provide unique insights to its customers.
"We are also in the process of expanding the information we collect to include alternative data sources such as eTR Plus.
"We aim to expand into new verticals including automotive, real estate and insurance sectors. We will continue to expand into new sectors that we see strong growth potential. These sectors are typically present in global credit bureaux, but relatively nascent and unique to the Malaysian credit reporting industry. These sectors include automotive, real estate and insurance, " it said.
CTOS also intends to launch new digital solutions and increase consumer awareness campaigns to increase our market penetration within the consumer segment.
It also said it may selectively pursue acquisitions and investments in companies as part of its growth strategy.
"Part of our future plan is to selectively pursue acquisitions and investments in companies as part of our growth strategy.
"We are actively seeking opportunities to expand geographically to some of the countries within the Asia Pacific region save for Thailand and the Philippines, and we believe that our competitive advantage lies in our deep industry expertise and track record of robust and sustainable domestic growth. As at the LPD, we have identified a target business in the Asia Pacific region but such acquisition plan is still in a preliminary discussion phase, " it said.
On its financial and operations for the financial year ended Dec 31, 2020, CTOS Digital said it posted profit before tax of RM40.33mil on the back of revenue of RM140.49mil. Net profit was RM37.97mil.
For FY2019, its pre-tax profit was RM41.24mil on revenue of RM 29.14mil. Its net profit was RM39mil.