CTOS Digital IPO to raise RM1.2b, including RM990m for existing shareholders
Article was originally published by The Edge Markets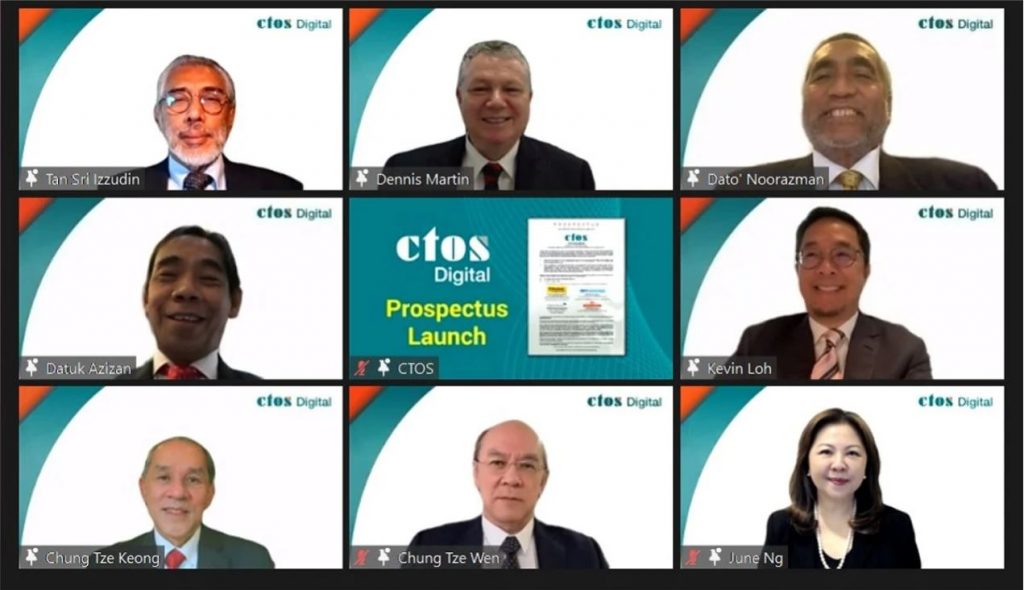 KUALA LUMPUR (June 30): CTOS Digital Bhd (formerly known as CTOS Holdings Sdn Bhd) is raising RM1.2 billion from its Main Market listing exercise at the offer price of RM1.10 per share.
Based on the issue price of RM1.10 per share, CTOS Digital, which owns credit reporting agency CTOS Data Systems Sdn Bhd, is valued at a market capitalisation (market cap) of RM2.4 billion.
The company posted a net profit of RM37.98 million for the financial year ended Dec 31, 2020 (FY20). Based on a market cap of RM2.4 billion, Digital CTOS is being valued at 63 times of price-earnings ratio.
CTOS Digital recorded RM42.3 million revenue in the first quarter ended March 31, 2021 (1QFY21), 24.1% higher than RM34.1 million in the previous corresponding quarter, while normalised profit after tax and minority interest (PATAMI) for the quarter jumped 73% to RM16.4 million in 1QFY21 from RM9.5 million previously.
Assuming an annual net profit growth of 70% in FY21, its net profit will balloon to RM64.56 million. Based on the forward earnings, CTOS Digital will be valued at 37.2 times, should it achieve strong earnings growth.
The initial public offering (IPO) exercise entails the public issue of 200 million new shares and an offer for sale allocation of 900 million existing shares.
Creador is the largest shareholder of CTOS Digital, with an 80% stake or 1.6 billion shares pre-IPO. The private equity fund offers 720 million shares for sale via the listing exercise. This will help the fund to pocket RM792 million cash.
Post-IPO, Creador's stake is expected to shrink to 40% or 880 million shares, according to the group's prospectus. This is the second mega IPO that Creador is involved in less than a year. The fund listed home improvement retailer Mr DIY Group (M) Bhd for RM1.5 billion in October.
The block of 900 million shares offered by IPO promoters will be made available to Malaysian and foreign institutional investors via a private placement exercise.
According to the IPO prospectus, the total gross proceeds from the offer for sale of up to RM990 million will accrue entirely to the selling shareholders. The selling shareholders will bear placement fees in relation to the offer for sale which is estimated to be approximately RM21 million.
Meanwhile, the listed company is expected to raise RM220 million fresh capital by issuing 200 million new shares, of which 44 million will be made available for application by the Malaysian public via balloting, 120 million will be made available for application by the group's eligible directors, employees and persons who have contributed to the success of the group. The remaining 36 million will be offered to Malaysian and foreign institutional investors.
A big chunk of the IPO proceeds, which is RM155.2 million, will be used to pare down debts, while RM59 million will be earmarked for synergistic investment and acquisition of target companies. The remaining RM6.1 million will be utilised to defray listing fees and expenses.
CTOS Digital's gearing ratio shot up to 1.1 times as its borrowings swelled to RM132.3 million in FY20 from RM27.63 million in FY19 and RM11.54 million in FY18.
CTOS Digital, which has a dividend policy of 60% payout, said it has garnered strong support from local and global institutional investors for its impending IPO on Bursa Malaysia Securities Bhd, constituting the largest number of institutional investors participating in a Malaysian IPO.
A total of 23 cornerstone investors participated in the institutional offering of the IPO, including renowned names such as the Employees Provident Fund Board, Permodalan Nasional Bhd, Aberdeen Standard Investment, AIA, Eastspring Investments, FIL Investment Management and JP Morgan Asset Management.
"CTOS Digital's growth story, combined with an innovative, comprehensive product offering has proven to be a compelling one. The tremendous support from notable local and global institutional investors reflects their confidence in our strong track record and growth trajectory going forward," its group chief executive officer Dennis Martin said in the statement at the launch of its prospectus today
"CTOS Digital's product offerings have expanded beyond credit reporting instruments to include a breadth of digital solutions to support every stage of the customer lifecycle. All of this comes on the back of steady financial growth, making us the leading credit reporting agency in Malaysia," Martin added.
CTOS Digital group provides digital solutions across three core customer segments — the key account segment, which includes a significant number of leading financial institutions and corporates; the commercial segment, which includes a growing number of small-and-medium-sized businesses; as well as over 1.3 million individual customers who realise the importance of understanding their financial standing to better access credit.
Applications for CTOS Digital's IPO open today (June 30, 2021) and close on July 6, 2021. It is expected to list on the Main Market of Bursa Malaysia on July 19, 2021.
Going forward, Martin said the group aims to allocate close to 65% of its capital expenditure to improve IT and data analytics infrastructure in the next two years, to strengthen capabilities in developing digital analytics solutions for its customers.
"Simultaneously, we will continue to explore opportunities to broaden our product range and customer reach, and expand our footprint through acquisitions of synergistic businesses within ASEAN," he added.
Maybank Investment Bank (Maybank IB) and RHB Investment Bank (RHB IB) are joint principal advisers of the IPO exercise, as well as joint bookrunners, joint managing underwriters and joint underwriters with AmInvestment Bank. On top of that, Maybank IB and RHB IB are joint global coordinators and joint bookrunners with Credit Suisse Securities (Malaysia) Sdn Bhd and Credit Suisse (Singapore) Ltd.
Edited by Kathy Fong